* Cheaper rates with each additional rental day!
Rent Touch Screen TV as an interactive display to better demo your product at Trade Shows or Summits. Free delivery, setup and collection. No GST charges.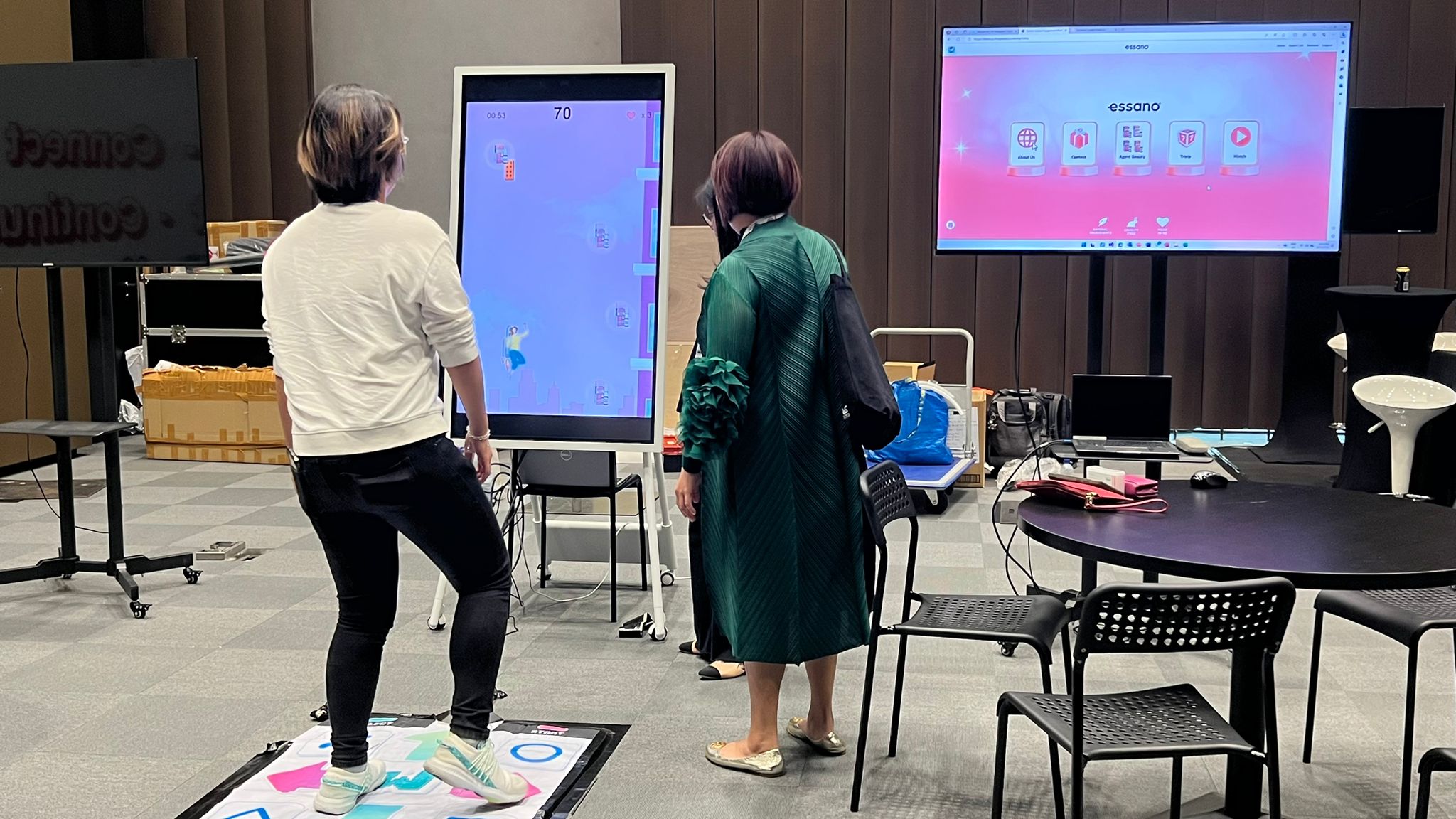 Add TV screens to your event or trade show as digital signage or for playing back looping corporate or product videos. Attract more customers to engage at your booth with your videos.

Add speakers to your booth or trade show for more reach. We also provide sound systems with operators for large crowds for breakout rooms or main event hall.

Rent equipment needed for Hybrid events or video conferencing events. We have been supplying audio visual equipment for live and hybrid events for over 25 years.

Add uninterrupted backup internet connection for video conferencing events though Zoom, Webex, MS Teams or to our live webcasting platform. Avoid outage from telco service disruption at your events and summits.

Camera rentals for live webcasting and video conferencing events. Includes professional connections for industry standard video mixers.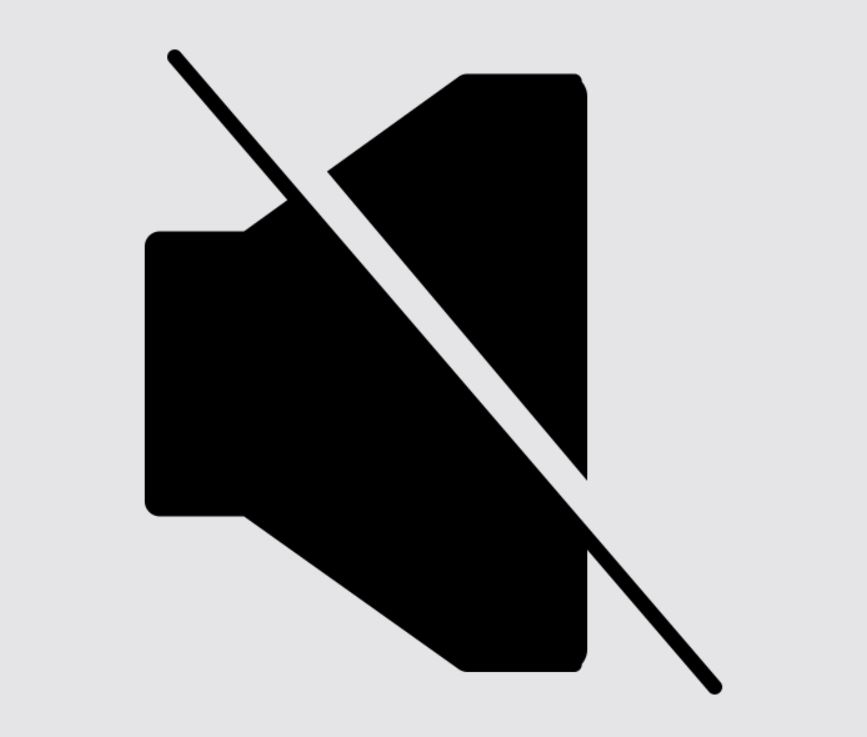 Transform your events into immersive, engaging experiences with our cutting-edge Silent Conference Rental service.
Rent Touch Screen TV for Interactive Product Demos
Rent Touch Screen TV with HDMI output to your stage projector allowing you to demo applications and product in an interactive manner at sales summits, product launches and press conferences.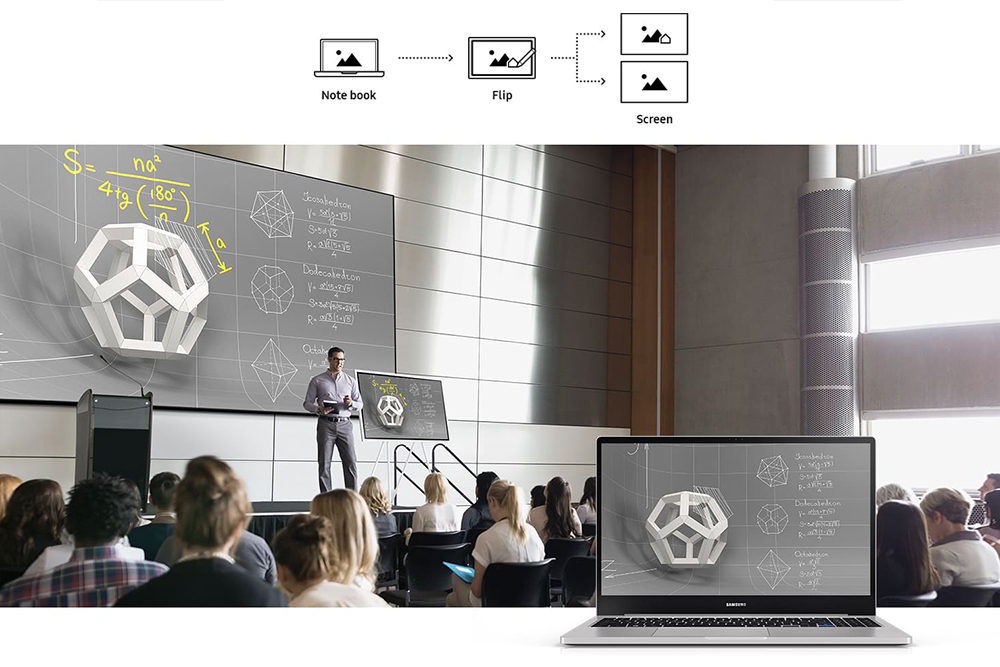 Simultaneously Output From Touchscreen To Event Projector
Project content on interactive touch screen to another large digital display in real time at your event, using Wi-Fi network or HDMI connection. Even connected to a personal device, the display can be shared. Ideal for large meeting environments, delivering information to bigger audiences.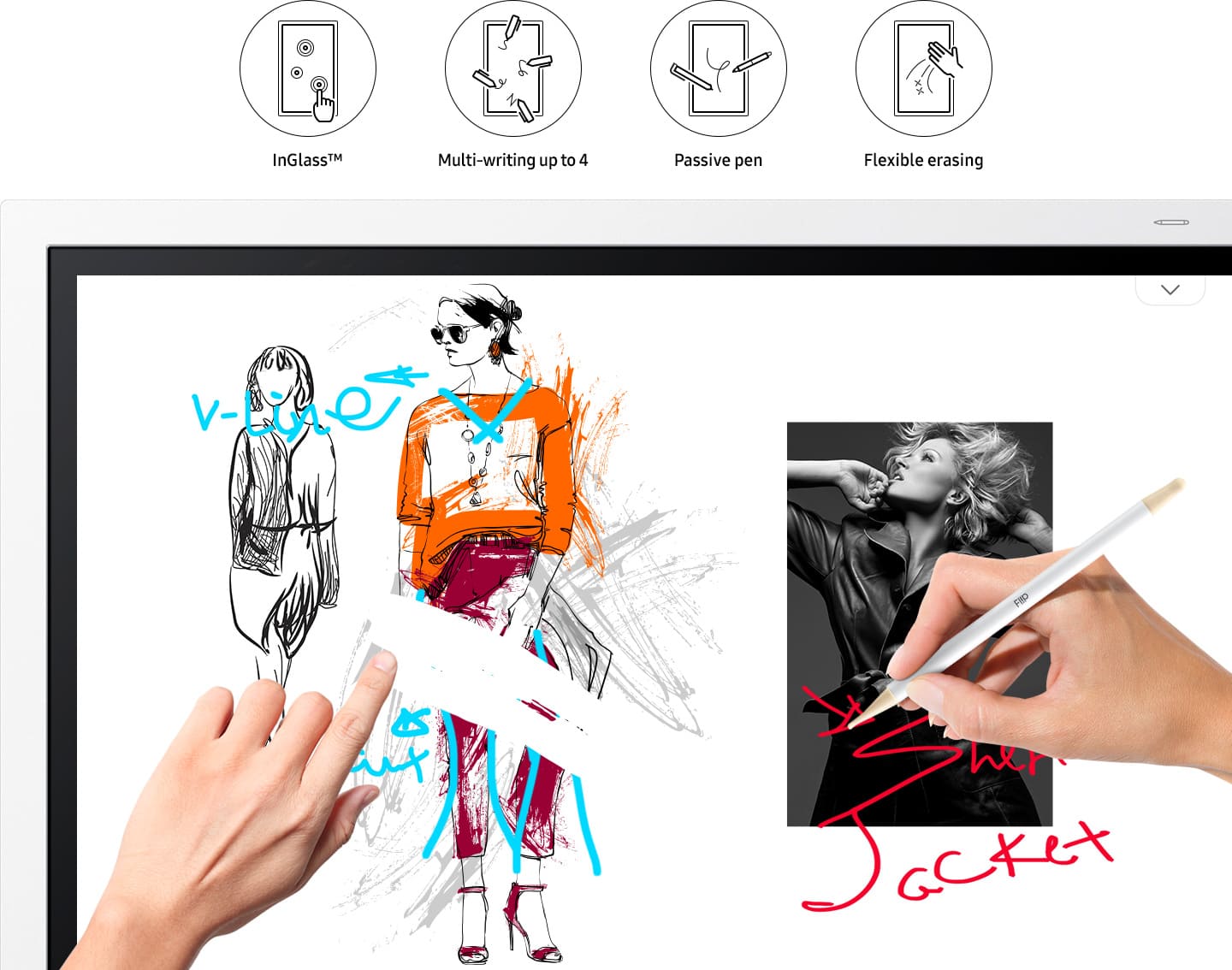 Draw & write with Pen mode
Rental Touch Screen TV provides users with a smooth and familiar pen to paper writing experience in a variety of available colors, styles and widths. Up to 4 people can write simultaneously, using any object as a writing tool. In addition, users can quickly erase the drawings with finger or palm swipe.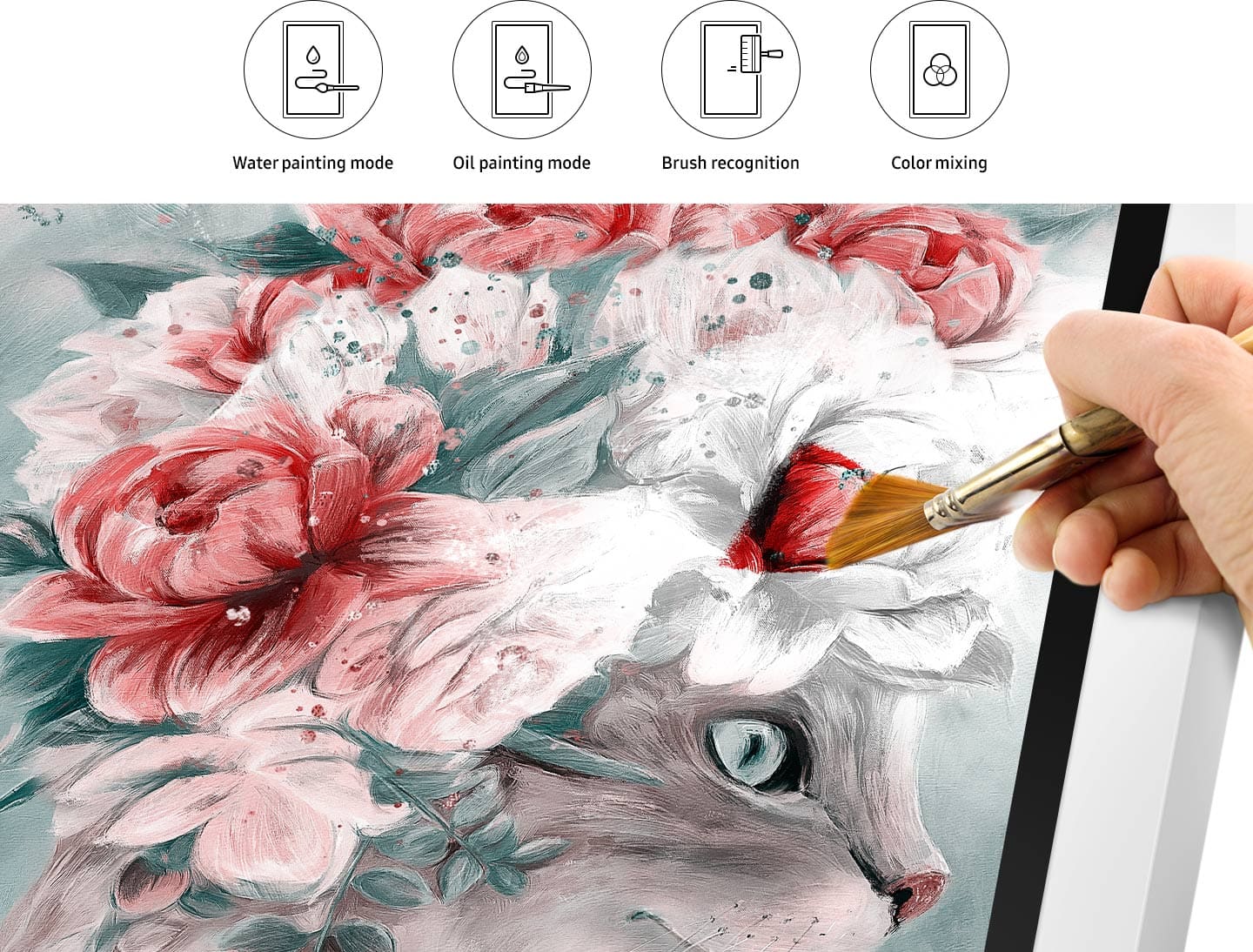 Create Artwork with Brush mode
On brush mode, Samsung Flip Touch Screen TV recognizes a wide range of thicknesses, ensuring users can create art at the stroke of a brush. Water and oil painting modes allow different styles and textures, while the Flip also gives users a full, vibrant color palette, even allowing flexible color mixing.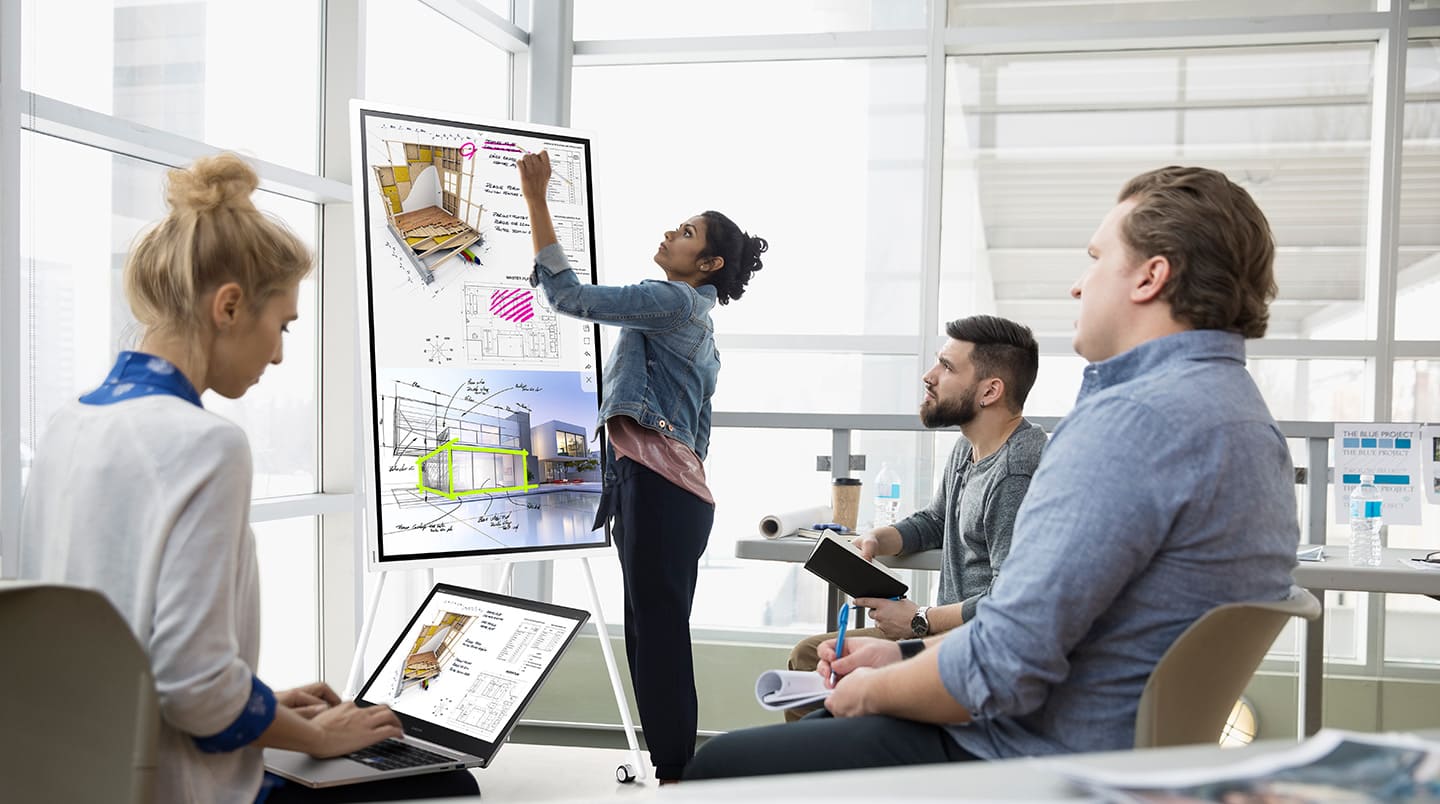 Write on any background
Rented Touch Screen TV allows users to write on any background. By clicking the note layer button, users can write on any content displayed, without affecting any work behind the original layer.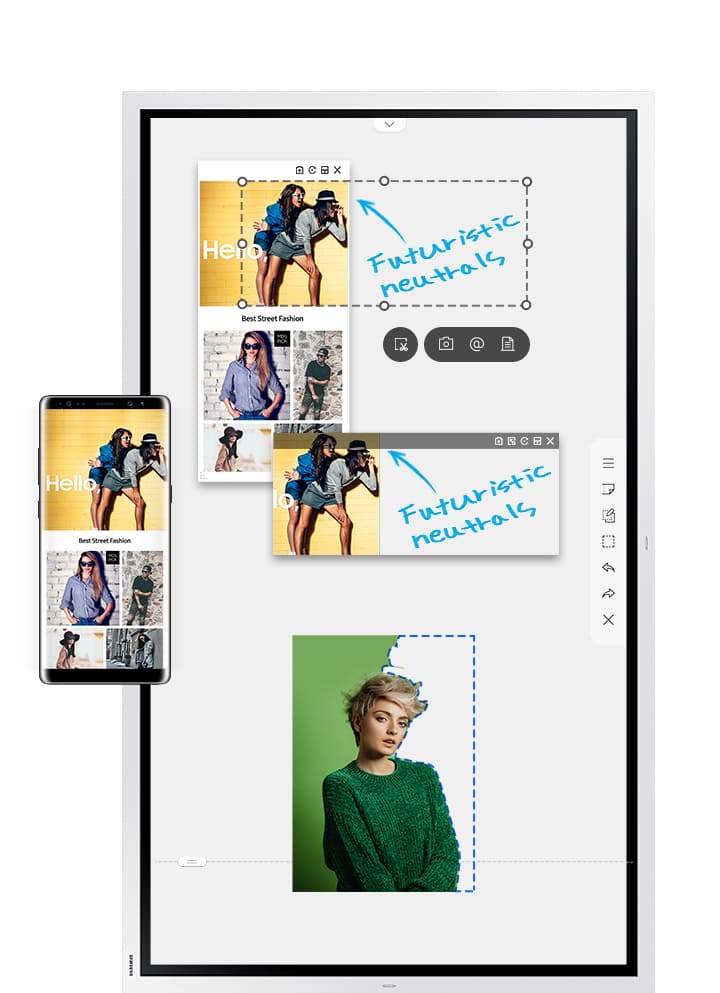 Image Editing Tools
Rented Touch Screen TV allows you to quickly and easily select, move, crop, capture, and edit any images. Each Image can also be merged to the roll with just one click of a button, allowing it to be edited or erased.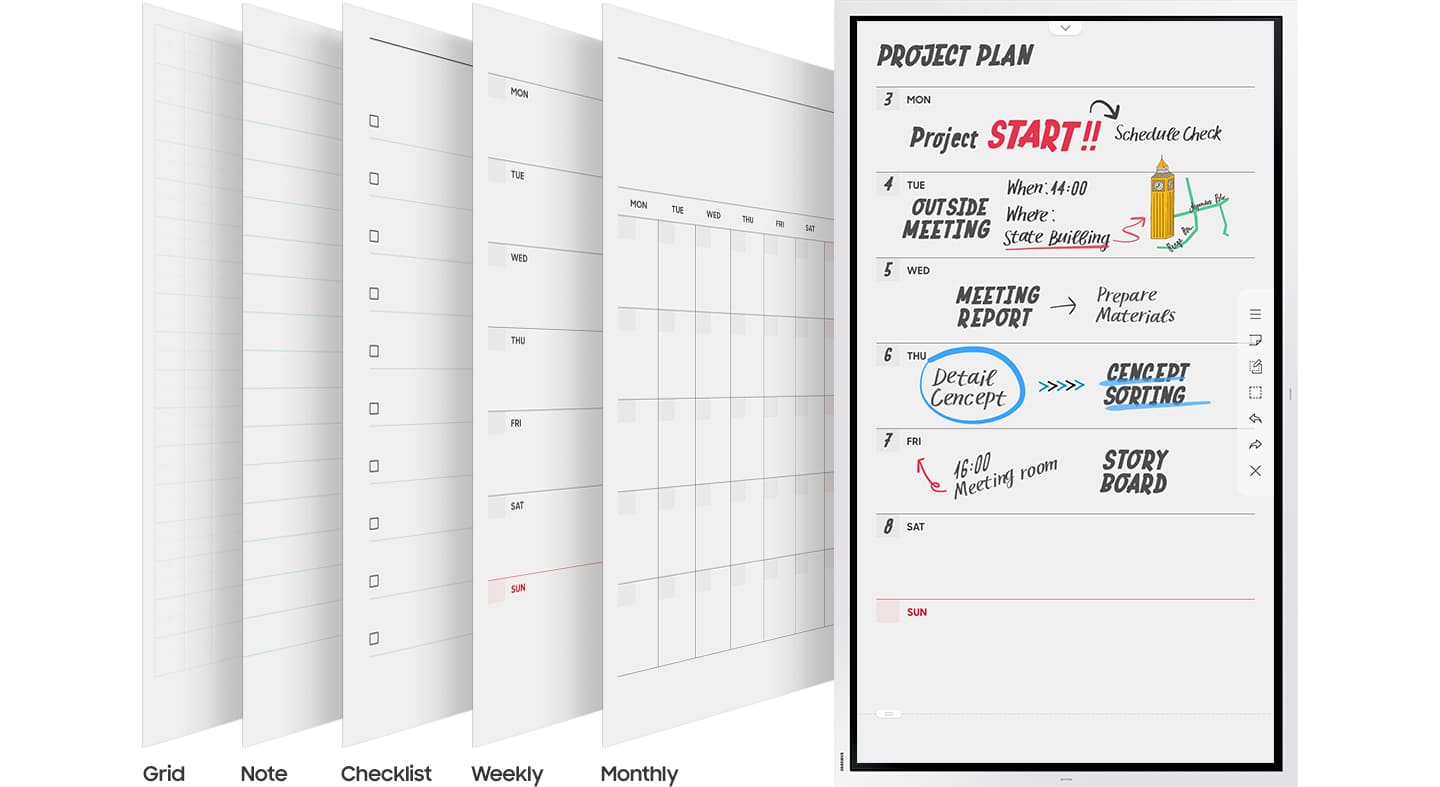 Electronic Forms
Rental Touch Screen TV can be used for a wide range of business applications, providing embedded versatile templates. You can use the touch screen as a calendar, scheduler, note or checklist board for your event or trade show breakout rooms. Touch screen TV for rent allows you to utilize it in many flexible ways.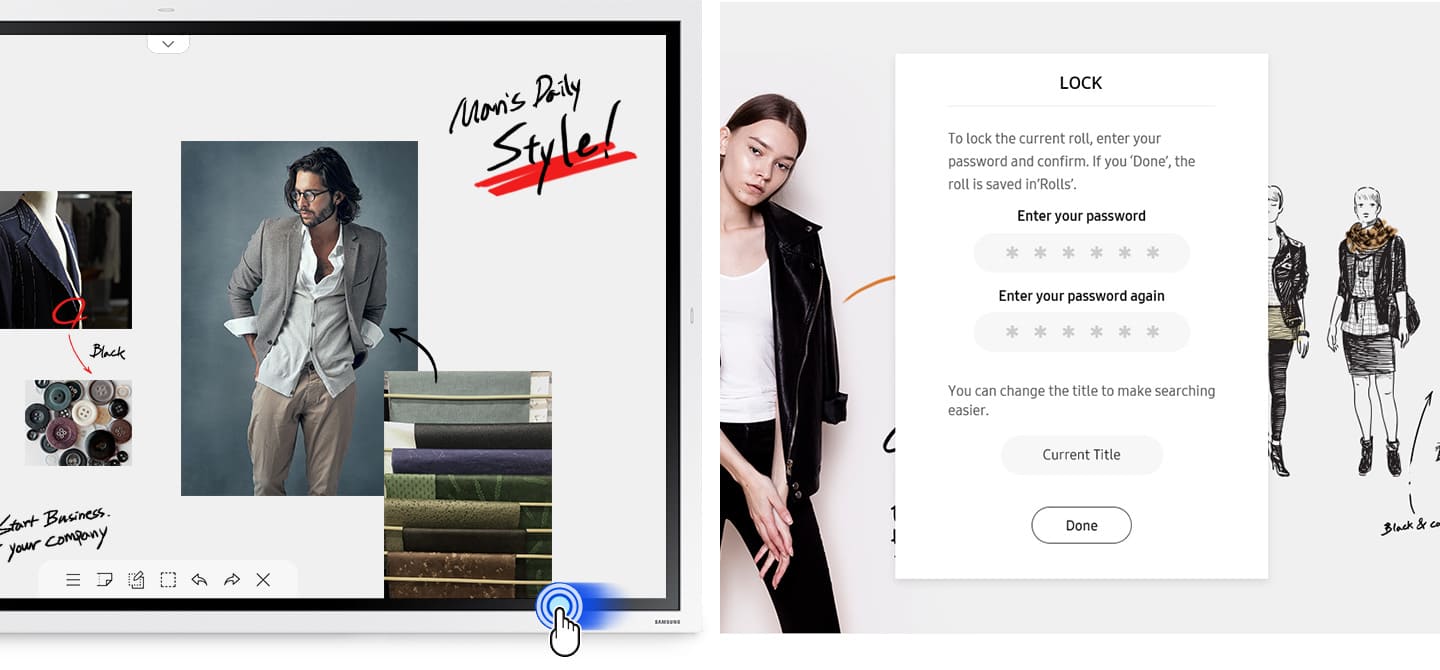 Easy Touch Screen Navigation
Touch Screen TV has up to 20 pages of writing space per roll, allowing users to seamlessly scroll through pages. In addition, the touch screen TV ensures that confidential meeting information remains in the right hands. Its reinforced lock system allows users to safeguard sensitive content from view.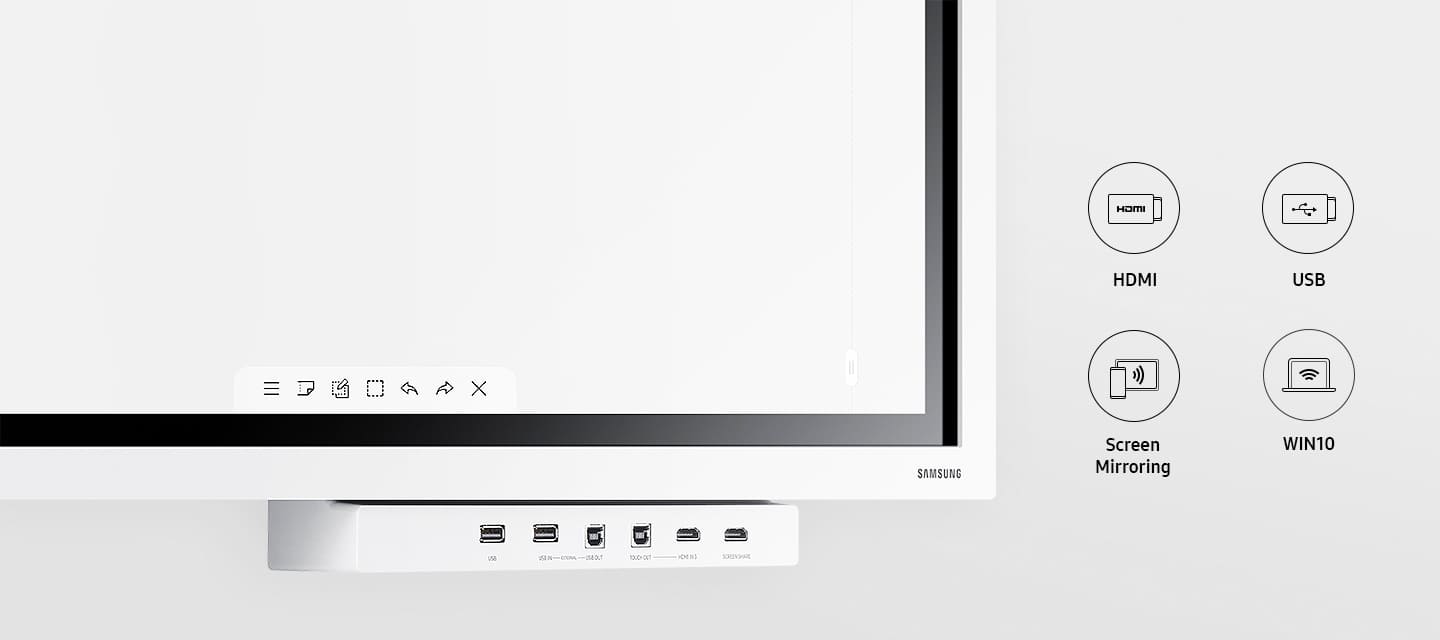 Multiple connection options
Versatile connection options. USB, HDMI, NFC and screen sharing capabilities enable optimum collaboration and provide interactive content visibility, notation and sharing. Rented touch screen offers a more powerful connectivity extension.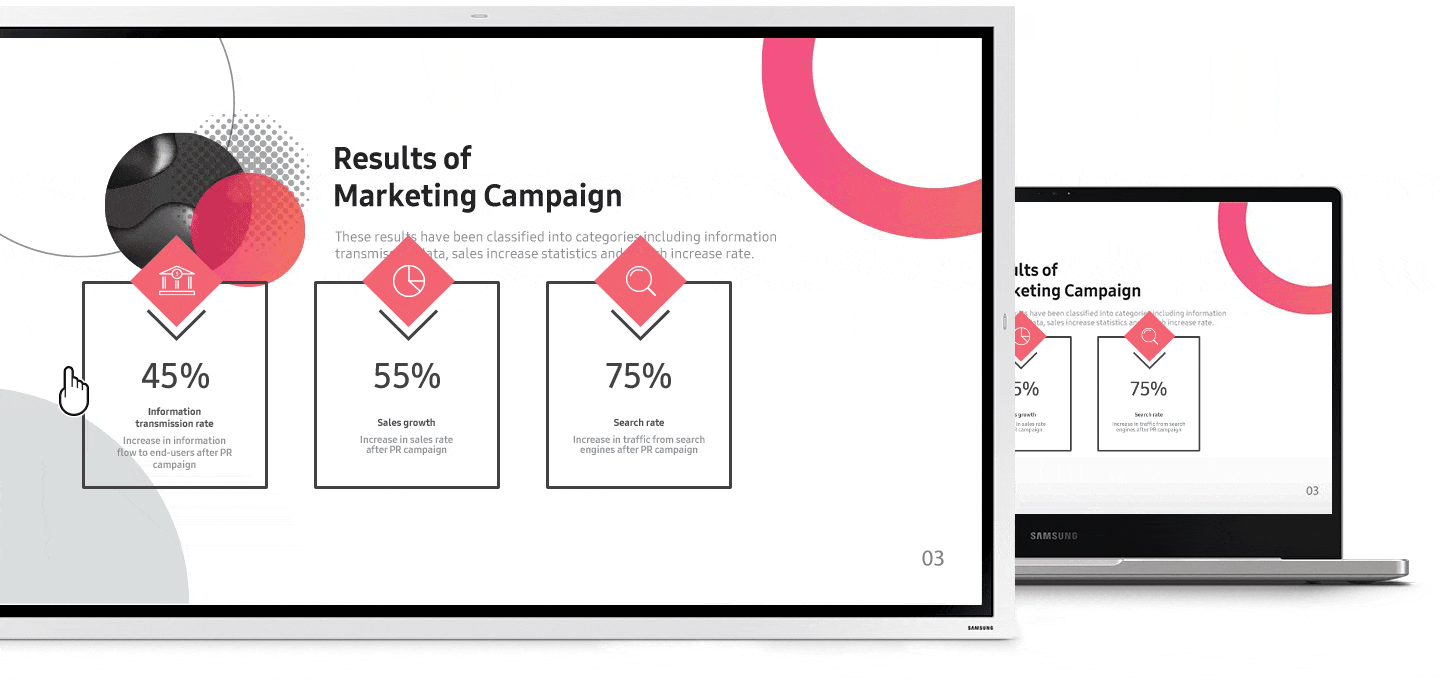 Synchronized Screen
Allows syncing of laptop with rental touch screen, for real-time content sharing and control. Changes made on the rented touch screen TV will be mirrored on the laptop, and vice versa.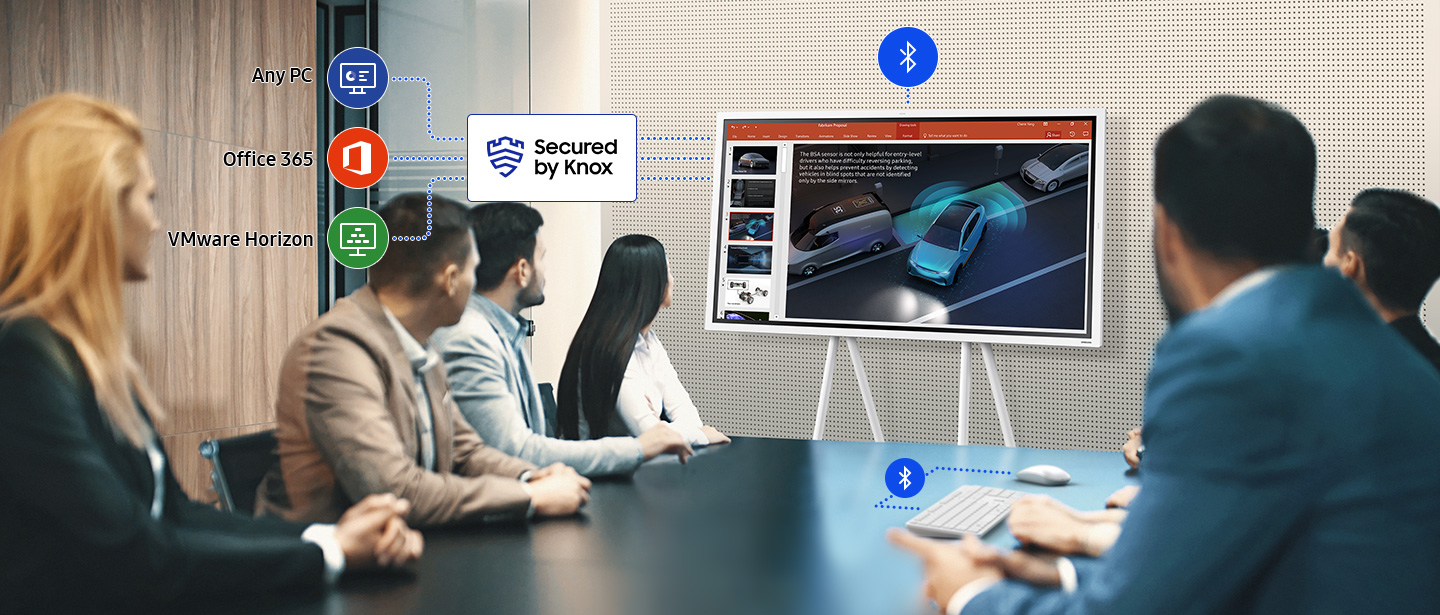 Connect from anywhere - Remote PC & Bluetooth support
To help create more efficient meetings, the rented Touch Screen TV can connect to a PC remotely, eliminating the need for additional devices in the room. Connect a keyboard, mouse to the display directly via Bluetooth connection enabling easier product demos at events.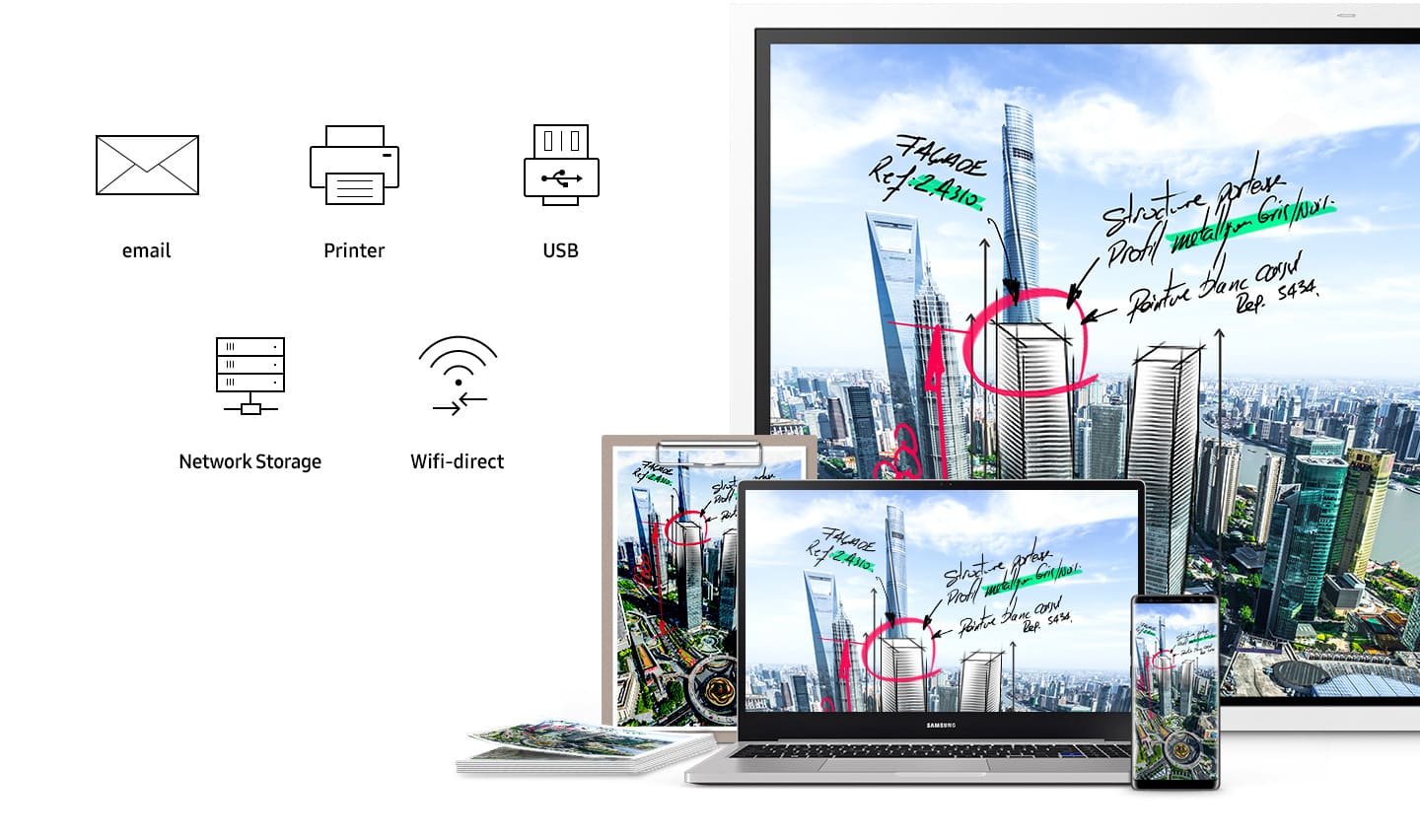 Easy Content Sharing
Sketched content from your event breakout room brainstorms can be easily saved and shared with event attendees. Distribute recaps to attendees, removing frustration traditionally associated with handwritten meeting notes. Important conversations and content are stored within the rented interactive TV in real-time, easily shareable across mobile and digital channels.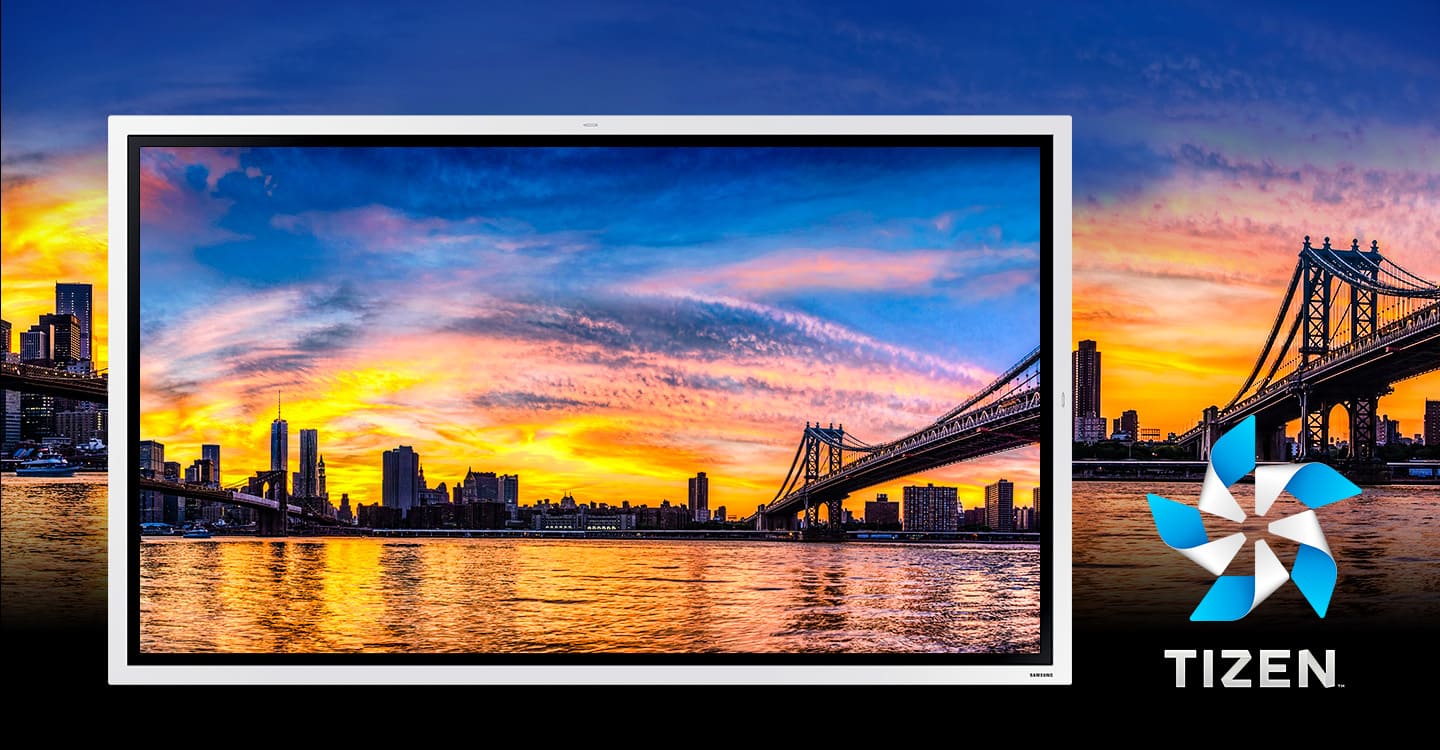 Ultra HD Display Resolution
Rental interactive TV displays all content in ultra HD quality, creating a compelling meeting experience for a seamless user experience.

Convenient and Easy Rental
Rental interactive TV offers a host of improved capabilities, including secure wireless connection, ensuring a convenient and productive event summit and demo experience.
Touch Screen Rental TV Specs
(Basic) Touch Out 1 (USB Upstream Type), Audio Out 1 (With Tray) Touch Out 2, Audio Out 1, Screen Share(HDMI-Out) 1
(Basic) Acceleration sensor (With Tray) Acceleration sensor, NFC
Touch Input, RS232C thru stereo jack, RJ45(For MDC)
MECHANICAL SPECIFICATIONS