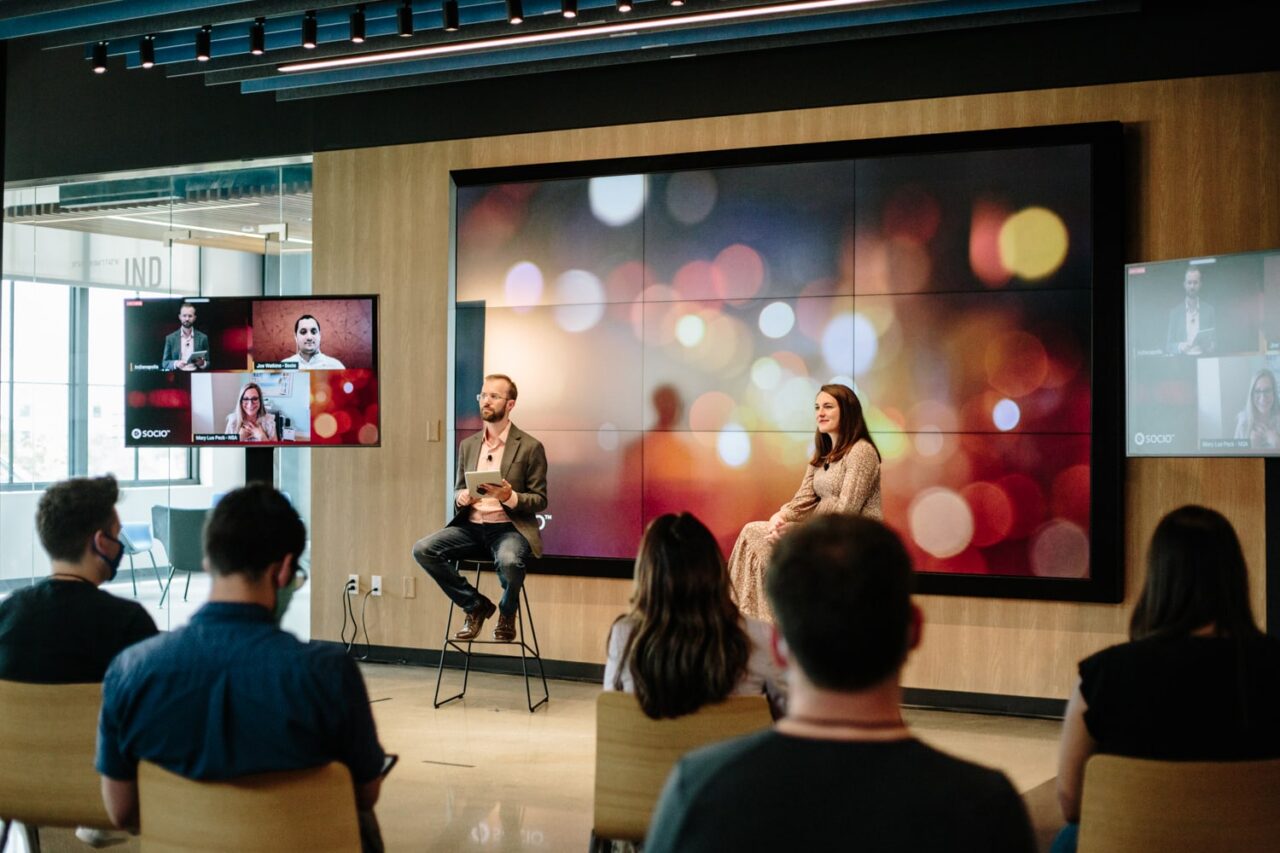 The term hybrid event is used interchangeably. Ask 5 people and you get six definitions of what is a hybrid event:
1. On location and off location attendees who need to interact via video
2. On location attendees with off location viewers who interact via text
3. On location audience but presenters are presenting remotely
4. On location audience with both on location and remote presenters
5. Multiple locations connected via video conferencing with physical attendees
6. On location attendees with off location attendees, no interaction
Hybrid events aren't new
Have you ever cheered on your team in the Super Bowl or predicted who the Oscar goes to…during the Academy Awards? Then believe it or not, you've been a hybrid event attendee!
Yes, the in-person experience of a nail-biting sporting event or a glittering awards show is exciting and immersive. But even thousands of miles away, people are sharing the experience — having parties, engaging on social media, taking surveys and quizzes, entering contests, and generally feeling like they're part of a community.
Now, that's not to say that your hybrid event has to be on the same scale as the Super Bowl or the Oscars (your budget just breathed a sigh of relief, we're guessing!), but it does demonstrate what's possible when organisations take the time to ask, "How can we make this a great experience for remote participants? What will make them feel like they're part of the event?"
What do hybrid events look like in practice?
Hybrid events can work in any industry and for any event. Here are two recent examples:
Mapletree Hybrid AGM – Annual general meeting for Mapletree was conducted as a hybrid event because of the covid safe distancing measure that prevented large crowds from congregating. Limited shareholders were allowed to attend in person while remaining shareholders attended via an online webcast. Directors connected to the event via video conferencing and were shown on the projector screen and confidence monitors so that shareholders and remote directors could interact as if they were all in the same location.
Oppo – Oppo a cell phone maker planned a product launch event but wanted greater insights from their market. Those who couldn't attend in person were sent a landing page link where they could complete a form to watch a livestream of the product launch. Not only did this greatly expand the overall event audience and create a fun, exclusive event for remote attendees, it also provided the company with a larger and more comprehensive set of data, allowing for better demographic conclusions.
Hybrid events are here to stay
While the current increased interest in hybrid events is due to travel restrictions, people will continue to have different appetites for meeting in person, whether it's due to safety, schedules, or travel.
Or maybe they're interested in your event, but not quite committed enough to take the time off work and book a flight. The great thing about a hybrid event is that it allows you to create a targeted experience for the industry VIPs who attend in person, while also allowing you to create an engaging, enticing experience for the folks who are still just getting to know you.
Essentially, a hybrid event allows you to grow your attendee pipeline, creating a low-effort, low-commitment way for people to get to know — and develop an interest in — your organisation. For that reason alone, our industry needs to look at hybrid events not as a temporary solution to a pandemic, but as the possibility-rich future of events.
So how do you know if hybrid events are right for you?
The best way to make this determination is to take a step back and think about your organisation and how a hybrid event might look.
Start this exploration by asking some key questions to help you get to the heart of the hybrid matter:
What is the objective for your event — in-person and virtually?
Who is your audience (for in-person and virtual) and what do they need from this event?
Will you include an exhibitor expo? What about a virtual exhibit hall?
What about sponsorship opportunities for live sponsorships and ones that could work virtually or a combination of both?
By going through this exercise and talking to your teams about resources and risks, it'll become clear what makes the most sense. And at the very least, you'll know how to answer the "what is hybrid, anyway?" question when it comes up again!